Test page (work in progress)
The Swedish Manufacturing R&D Clusters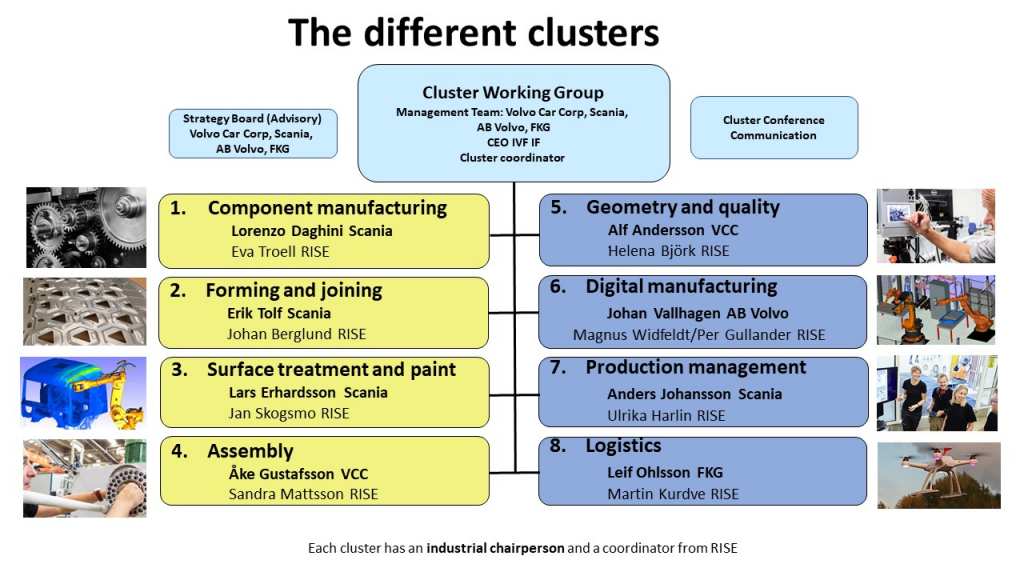 Mission
The Swedish Manufacturing R&D Clusters is an organisation with the objective to identify and initiate common areas for research that will strengthen the competitiveness of all manufacturing companies in Sweden
Role
The role of the clusters is, besides initiating and performing research within advanced manufacturing, to communicate results from finished and ongoing projects to a larger part of the cluster companies, and to forecast new trends and technology of importance for sustainable production within the specific cluster area.
Focus
Today there are 8 clusters focusing on different manufacturing expert areas. Four of the clusters cover manufacturing processes and four clusters cover areas that support all manufacturing processes.
Working method
The clusters meet regularly, and the members can influence how the resources for coordination will be used for the coming year, for example what themes the dissemination and forecasting activities should focus on. The resources are to be used with the interest and open to all active cluster members and should not be used in the benefit of a single company.
Examples on activities that can be performed
Webinars and dissemination activities of project results and trends
Expert seminars within new areas
Arrangement of study visits
State-of-the-art analyses within areas of importance to the cluster
Idea workshops for national or international project funding
Our clusters
Component manufacturing cluster
Surface treatment and paint cluster
More information on the clusters
Presentation on cluster activities
Do you want to take part in the cluster strategic work?
Contact:
Boel Wadman, RISE, boel.wadman_at_ri.se